St Helens Youth Council Election results for 2016
Edward Hodgson – Chair
Samantha McQuiggan – Deputy Chair
Lucy Rauer – Communication Lead
Committee groups
Edward Hodgson – Safe Guarding
Samantha McQuiggan – Health
Lucy Rauer – Crime and Disorder
Katie Tomlinson – Crime and Disorder Lead
Lois Stahler – Learning and Leisure
Issue of priority for young people discussed by our committee groups
Bullying and sexting.
Healthy school dinners and drinks.
More sport options in school that relate with activities within the community.
In depth drug and abuse awareness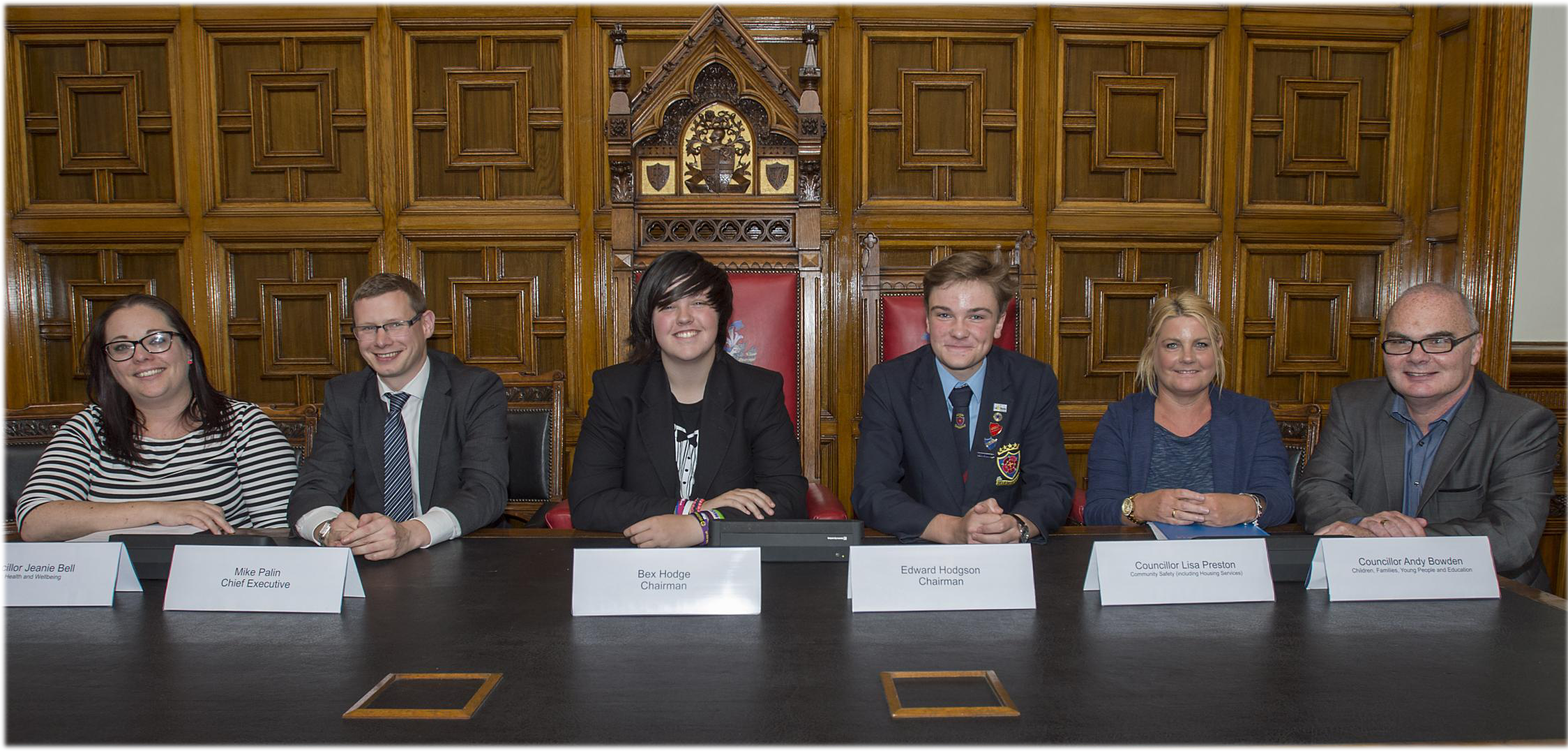 Some of St Helens Council's most senior figures were put in the hot seat as they took part in a local question time event in the town hall with members of the St Helens Youth Council.
There, students from Sutton Academy, Hope Academy, De La Salle, Rainford, Haydock, Cowley and St Cuthbert's were encouraged by chairpersons Edward Hodgson and Bex Hodge of De La Salle and Rainhill High respectively, to ask their own questions on a range of topics affecting them.
Directors for public health and wellbeing, school support services, social work & community - as well as Deputy Police and Crime Commissioner for Merseyside Police, Councilor Sue Murphy were among those to take part.
Meanwhile in the council chamber, a panel made up of St Helens Council Chief Executive, Mike Palin; Cabinet Members Jeanie Bell (Public Health and Wellbeing); Andy Bowden (Education) and Lisa Preston (Community Safety) were put in the spotlight as they discussed how young people's aspirations can be raised, mental health services available for young people - and how to the town centre can be made a safe place for young people.
Hailing the day a success, Councillor Andy Bowden, Deputy Leader of St Helens Council said: "Young people have exactly the same rights as adults when it comes to talking to their councillors - who are always more than happy to hear their views."