Silver and bronze result in Chalkida, Greece at the European Shotokan Karate Championship
St. Helens girl and De La Salle pupil Katherine Cheshire pictured here with her National Championship Trophy has finished a great competitive year with European honours.
Katherine, Northern Region Champion 2016 and current North West Open, KUGB National, Liverpool and KUGB National Youth Champion and KUGB Shotokan Cup holder in the under 15's Kumite event was selected to represent the Karate Union of Great Britain's England Team in the girls cadet individual and team events, she also stepped up in age groups and joined the junior girls team on the second day.  
On the first day in the cadet event there was little optimism for the team who had to face a strong Russian team in the first round. Katherine had other plans and led from the front and laid the foundation by lifting her team mates and spectators by scoring an unexpected Ippon win. Suffice to say Katherine and her team mates Niamh, Libby, Thea went on to defeat an aggressive Welsh team to reach the final where they came second to a well drilled Polish team.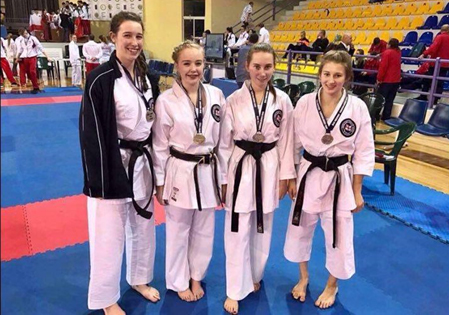 On the second day Katherine stepped up to support the junior team who competed against a well organised Swiss and strong Hungarian team. They did not quite make the final won by the Polish team but reached the semi-finals coming third. The girls can take great credit from their performances they did really well achieving bronze medals in a tournament dominated by the Russian and Polish competitors.
Katherine trains at Halewood Karate Club and needs to thank her Sensei's Chris Thomas and everyone else there who has supported and helped her to these achievements. Katherine also needs to thank Sensei Richard Pavšič who allows her to access additional training at the Lancashire Shotokan Karate Academy.